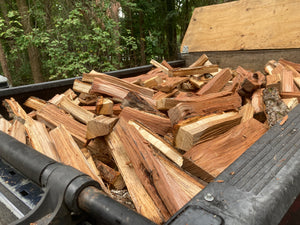 Customers are limited to one firewood load per order but can reorder any time. 
Riverside Firewood is your choice for the best firewood in Richmond, VA area. Our hardwoods burn hot! We deliver all over the area. Let us bring some ambiance to your outdoor patio and some warmth to your winter.
Note: our wood is not fully seasoned. Our hardwoods have typically only been on the ground for a couple of months. So, it won't be as easy to burn as fully seasoned wood (12+ months) or kiln-dried wood you purchase at a place like a hardware store. That's why we split it smaller, to speed up the drying process (It's also a better size for wood-burning stoves). Most of our customers don't have any problems starting a fire with older or drier wood and then using our wood to keep the fire burning hot throughout the night. The best of all options, of course, is to buy now and be ready for next season. Cheers!
1 truckload = approx. 4'x7'x17" in volume - just under 1/2 cord (4'x8'x24")
*You don't need to be home to receive the delivery, but we do need to be able to back a truck up to the spot where you want the wood dumped
*We deliver to the following zip codes: 23224, 23234, 23237, 23836, 23831, 23832, 23112, 23114, 23113, 23236, 23235, 23225, 23220, 23221, 23222, 23223, 23226, 23227, 23228, 23229, 23230, 23294, 23233, 23238